The last couple of weekends have been filled with lots of family time and celebrations. I've been once again slow in getting my posts out. But here are some things we did over the last couple of weekends in May. Now that May is almost over, I'm just now getting to write about those events, but like they say, better late than never.
Graduation/ Mother's Day
On Saturday before Mother's Day, we headed down to Oswego for Tom's cousin's son's high school graduation. We hadn't told them that we were planning on coming, so they were really surprised to see us at the after party. Tom spent a lot of time with this side of his family when he was in college and we just don't get down that way as often as we'd like to. It was great to talk with them and share old stories of when Tom was in college. There weren't a lot of things for Jaycee to do, but they did have a tablet with some games on it that she loved. She has had several opportunities to play with different tablets and it got me thinking that maybe we need one for trips like this when there aren't many toys for her to play with. She will however, have to share it with her parents, but it may be something for the distant future.
On Sunday, we went to Hutch and spent some time with Tom's family. I had this idea to make Mother's Day flower pots using Jaycee's handprints. She had a lot of fun making them and we delivered them to Tom's mom and had a cookout with Tom's sister. Later that night, we had our small group meeting at church, where we delivered goodie bags to the nursery workers who watch our kids so we can meet in our group.
Family Get Together
The following weekend after Mother's Day, we spent the weekend with my family. My mom and dad were watching my nephew while his parents went to California for a graduation. Jaycee and Ethan loved playing together and it was a lot of fun to watch them run and play and chase the train. Jaycee and Ethan also had a lot of fun helping my mom clean her floors.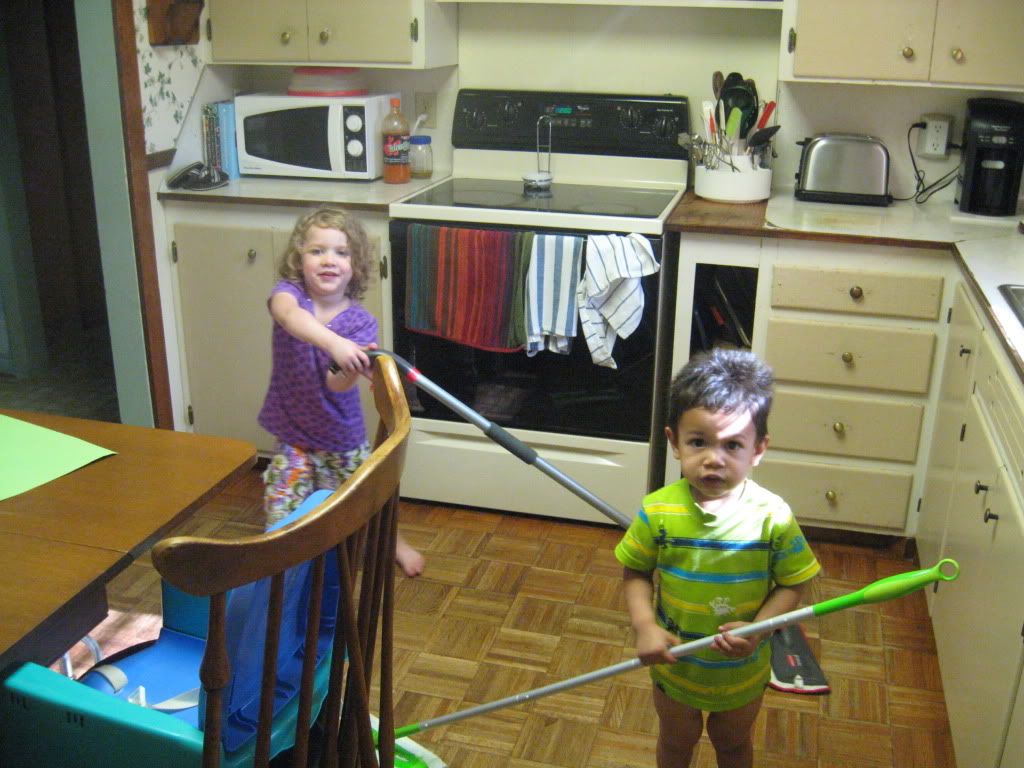 Jaycee and Ethan cleaning grandma's kitchen floor.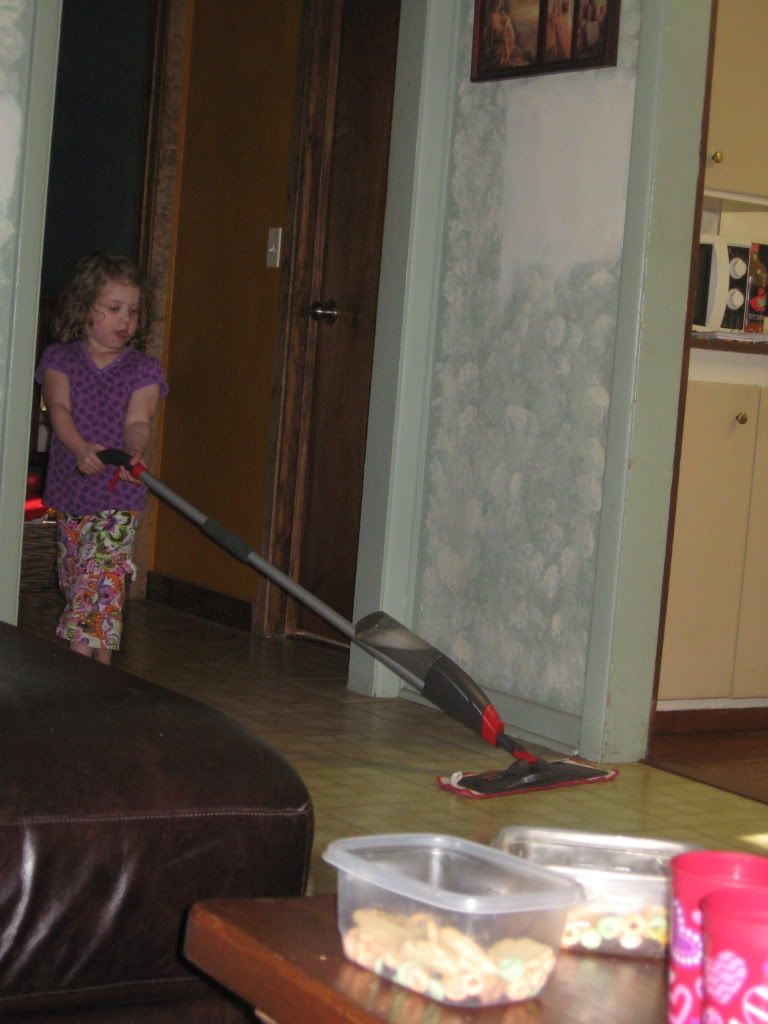 This kept the kids busy for quite a while.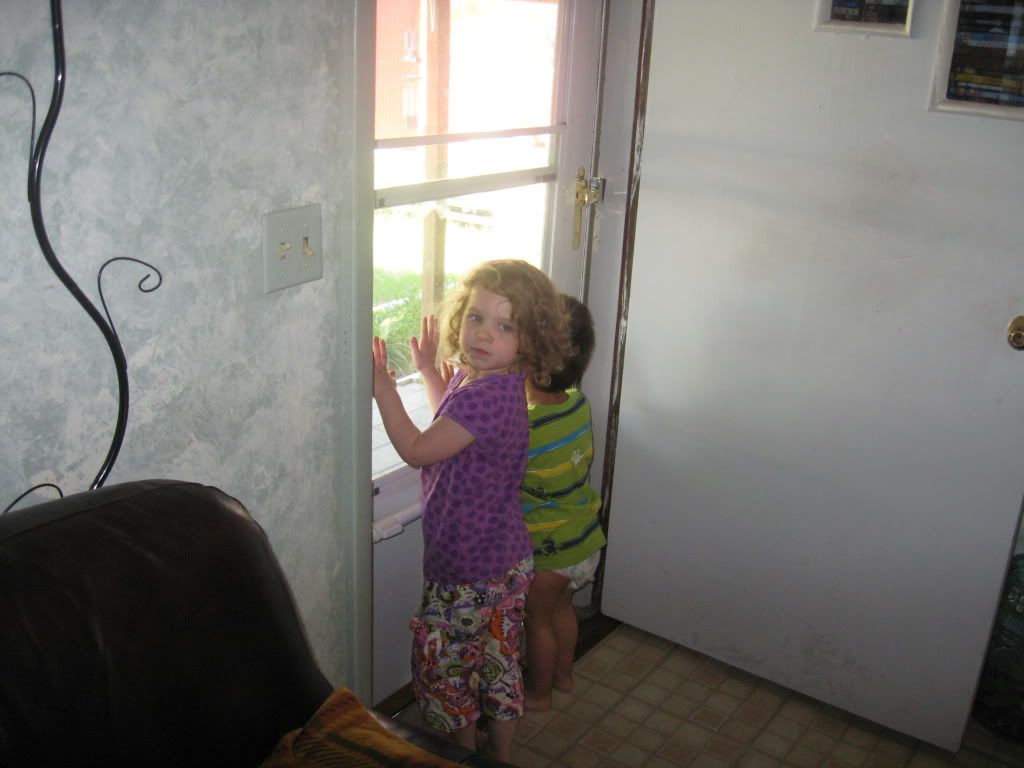 Staring out the window at the train. They would say "Go Train Go" every time it passed by.
We later went to my grandparents' house with my aunts and uncles and had a cookout. It was a late Mother's Day celebration since it was one of the few times that we could all get together. There is always good food and a great time of catching some fresh air in the great outdoors.
Memorial Weekend
On Saturday, we cleaned out the room that Jaycee will be getting after the baby comes. Our goal is to get her in it fairly soon so that she gets used to it before she has to be in it. We also made piles and piles of things for our upcoming neighborhood garage sale. We got a lot done!!!
Sunday morning, I volunteered to work in the nursery for another girl who was visiting her family in Texas on Sunday, and Tom and Jaycee met me for the later service. We were all really tired that day and took a really long naps. I love my Sunday naps!!!! Then later that night we had a small group meeting. There weren't many of us there, but we had a great time of sharing. Our lesson for the night was on humility and having a servant's heart and attitude. I must say I felt quite convicted. There are a lot of things that I just do b/c I know if it were me it would be of great help to me, but there are other times I help for the wrong reasons and end up not having a great attitude about it. I'm one of those people that hates to disappoint, but sometimes I get myself too stressed out when I don't. I have gotten better about this, but still have a ways to go. Anyways, I began to reevaluate my heart and attitude when I do acts of service for others and question myself as to the reasons why I'm doing it. It really made me stop to think. I'm also glad for the opportunities that God has put in my path to serve, even though I was a little hesitant about it, He led me to some great people and other opportunities through serving at church. I am also glad for a group that Tom and I can open up to. We are still getting to know each other better, but they have become some great sources of support for us.
Monday morning, Tom, Jaycee, and I spent a lot of time out in the yard pulling weeds and cleaning out Caden's garden. I am contemplating redoing some things with it, but as of right now we just spent some time cleaning it out along with cleaning out the area where we have some burning bushes that have grown quite a bit since we planted them. They were just overgrown with weeds and needed some much needed attention.
We had quite a huge storm the weekend before and were needing to clean out lots of weeds, branches, and various other things around the house. Here are some pictures of the hail that was in our yard from the storm. We have lived in this house for nearly 11 years now, and have never heard that kind of hail. Tom was keeping an eye out on things while Jaycee and I were downstairs in the basement just waiting it out. Actually, Jaycee decided that she was so tired and took a nap when the storm was almost over.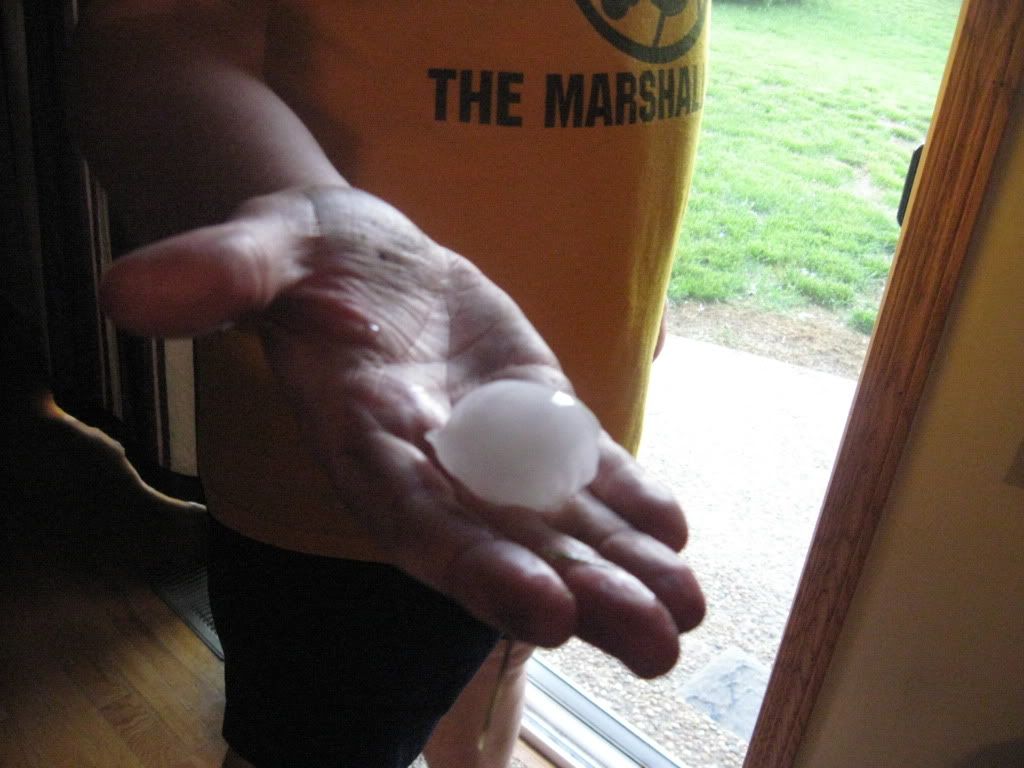 This was the size of the hail that hit our house. We are lucky that our new sliding glass door didn't break.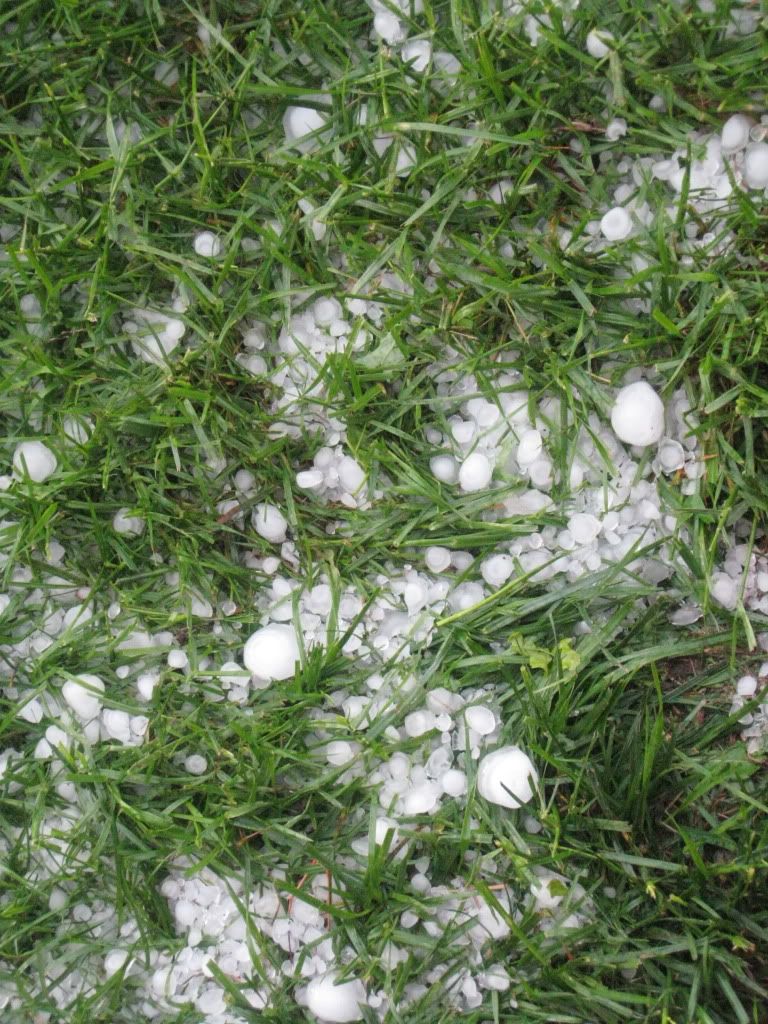 More hail in our yard.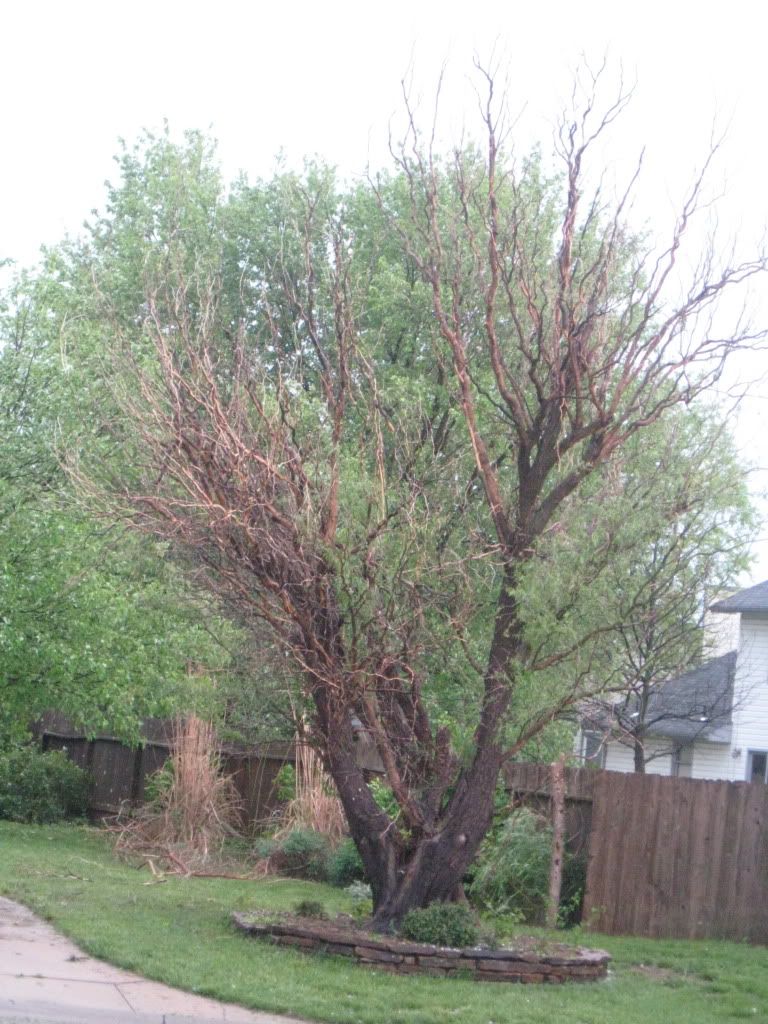 Our neighbor's tree the we can see from our front porch. It looked like it was completely stripped of all its leaves.
Later on that day, we went to Hutch and put some flowers at Tom's dad's grave. His dad did serve in the military during the Korean war (I think). And we paid our respects there. The service Sunday morning was about Memorials and not just honoring those we've lost, but also seeing what God had done in our lives since losing our loved ones. It made me stop and think about all that God has taught me since we lost Caden. The type of person and mom that I am right now has definitely been shaped from losing such a precious gift, but God has done wonderful things through Caden, I sometimes forget to see just how much He has done. It was a great reminder!!!
We then went to my parents house and blew bubbles outside and spent some time playing outside then ate and picked out some new bedding for Jaycee's new room. We are a little closer to getting her switched over to her new room and adjusted to the change.
We had a busy time, but it was a lot of fun.
the Ehrlich's