Unofortunately, that's not my age, I wish. That ship has sailed. It's my home based business. This year Tom and I decided that it would be best for our family if I stayed home full time. I must say it has been amazing the way God has worked in our lives throughout this year. There have been challenges and we have had to make some different financial decisions than we are used to, but the rewards far out weigh our struggles.
I have been less stressed out about lesson plans, getting everyone where they need to be, planning, paying for childcare, and when Jaycee or I have been sick, I haven't had to search around for other alternative child care options. I will also say that my relationship with Jaycee has really grown. She amazes me daily. She has such a fun, creative, and loving spirit. I love that I get the awesome opportunity to shape her character while helping her discover God's amazing plan for her life.
One of the unique opportunities that has come my way this year is 31 Gifts. I was first introduced to this company by a dear friend last summer. I had no idea what it was, but was excited to see my friend who I hadn't seen in a while. I got an amazing purse that time and saw several other bags that I could definitely use later. A few months later, I got another invite to a 31 Party and bought a Retro Metro bag that time. I also learned that 31 is a Christian company based on the chapter in the Bible Proverbs 31. That really intrigued me and I started to ask some questions. I thought that this might be a great way to pay off some debt and earn a little extra money since I've been staying home.
Most of you who know me well know that I am all for paying off debt. Tom and I have seen first hand how paying off debt can lead to financial freedom. About 8 years ago, we took a class,
Crown Financial Ministries.
It changed our lives and convicted us about the types of debt we had at that time. While, we are still working on our way towards financial freedom and have had our rough patches, God has proved His faithfulness in many ways financially and otherwise.
Anyways, I was led to 31 Gifts and eventually signed up. I thought that being so quiet and reserved I wouldn't be very good at it, but I have a lot of fun ideas that I want to share with my friends & family. I also just want to help others by showing them how 31 has helped me and my family stay organized. I have found that there are a lot of things in life that you just can't plan for and they often really stink, but when I'm organized I seem to see my problems and challenges with a different attitude. When my attitude is better, my problems don't seem so HUGE and I know that God is using 31 to help me with that.
The last couple of months have been kind of slow for me, but I am hanging in there and have a few people who are wanting to host parties this summer. I am really excited to share updates about my business, how it's going, what's on sale, and ideas that I have for parties that are not your ordinary home party. I am looking forward to how God will use 31 to help my family. I hope to often share some products I have to sell and to let my friends be among the first to see those items first hand.
Below are a few pictures of some of my favorite 31 products and how I've been using them.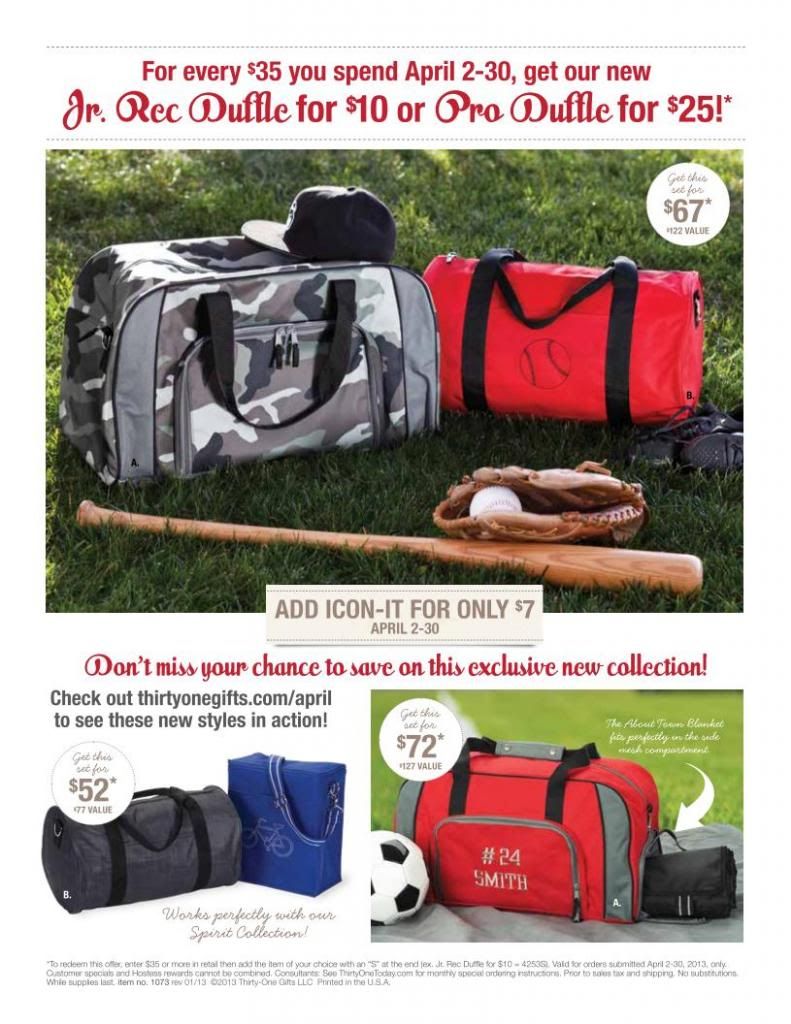 Rec and Roll Duffle Bags - $80 / $35
These are the customer special for the month of April. Great for sports equipment and kid's athletics.
Every $35 you spend in April you can get the large Pro Duffle for $25 and the small Jr. Duffle for $10.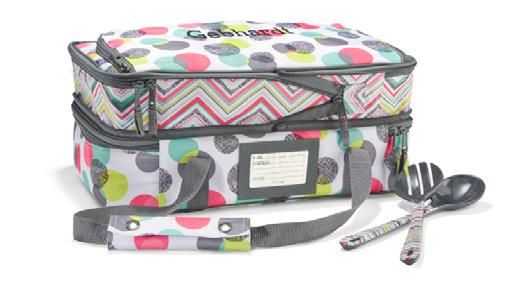 Perfect Party Set
This is one of my favorite products. I'm sad to say that it will be retiring at the end of April.
This is a hostess exclusive item and can only be bought for $20 when you host a party.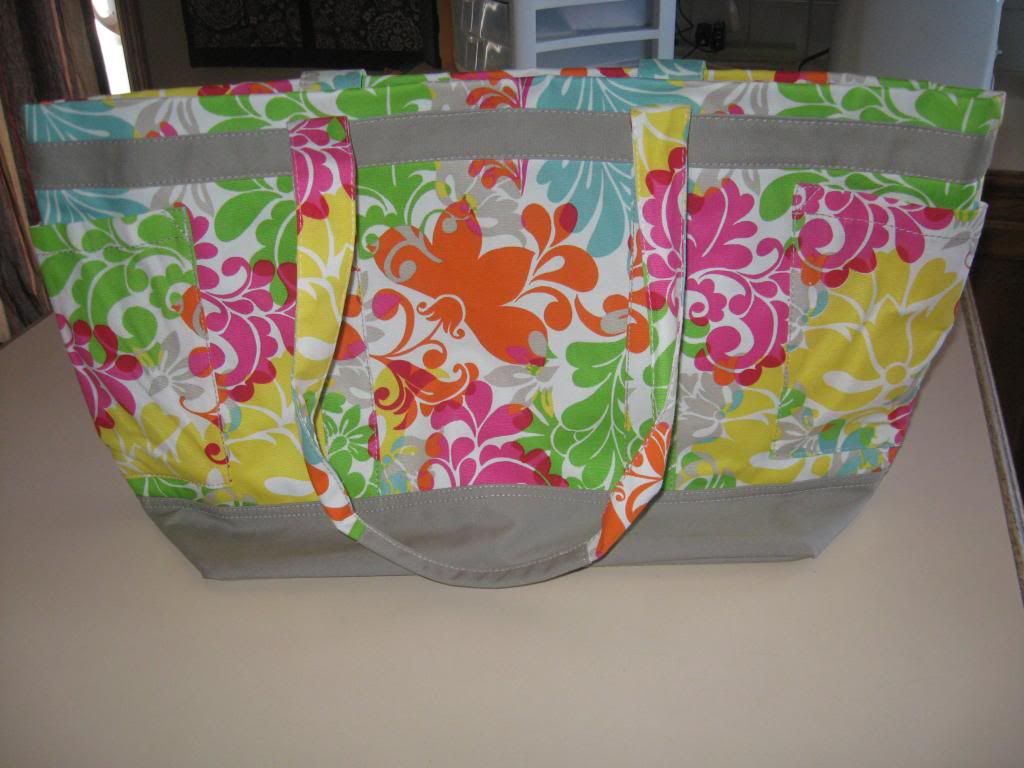 Easy Breezy Tote - $55
I've been keeping this in the car right now, but I plan to use it this summer for going to the pool, park, or other outside events. It is large and roomy for towels, blankets, camping stuff, etc.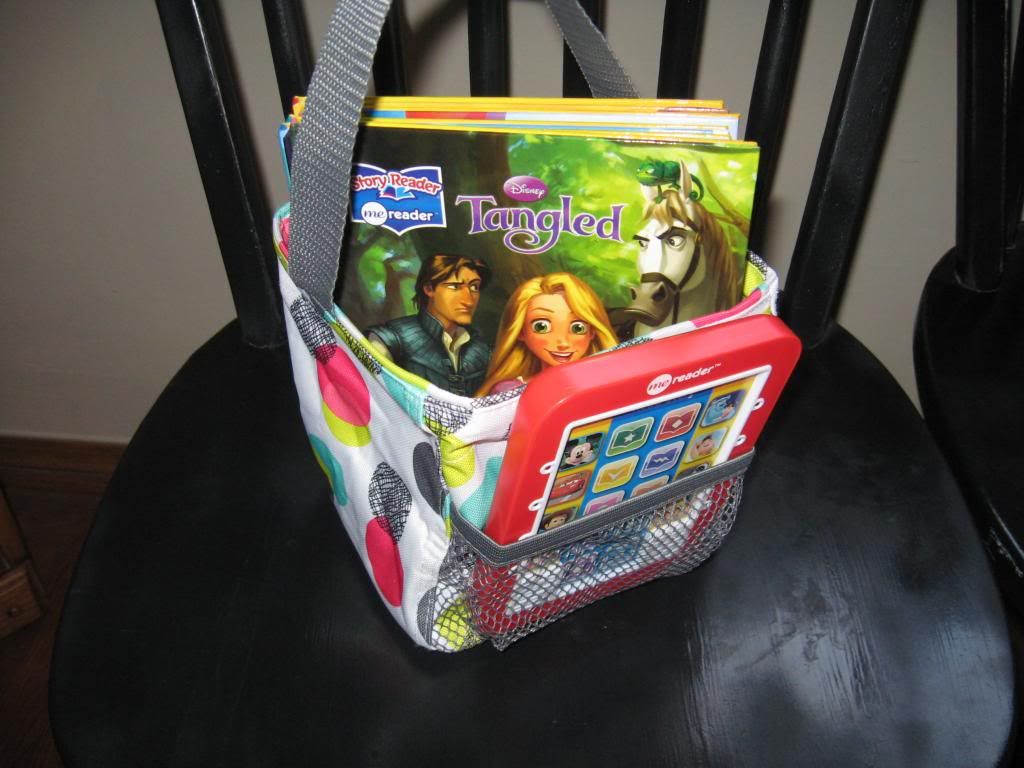 Littles Carry All Caddy- $12
This is one of Jaycee's favorite bags. She can carry it in the car with her and put it on the seat next to her.
We have used it to hold small books, notebooks and crayons, I also thought about using it for her hair bows and other hair accessories. It is very versatile.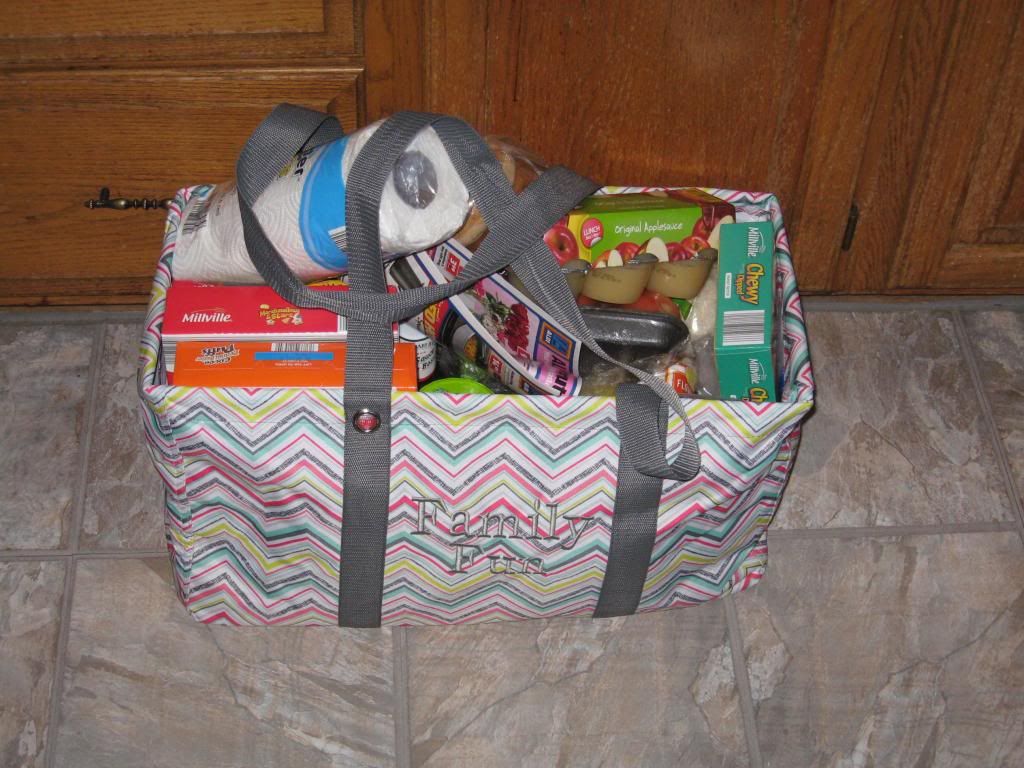 Large Utility Tote - $35
This is by far my favorite item yet. I have used this for groceries mainly. I also keep this in the back seat of the car to store extra blankets and toys to take on the road when we're traveling. I also plan to buy a couple more of these with my kid's names on them and put them in their rooms for laundry.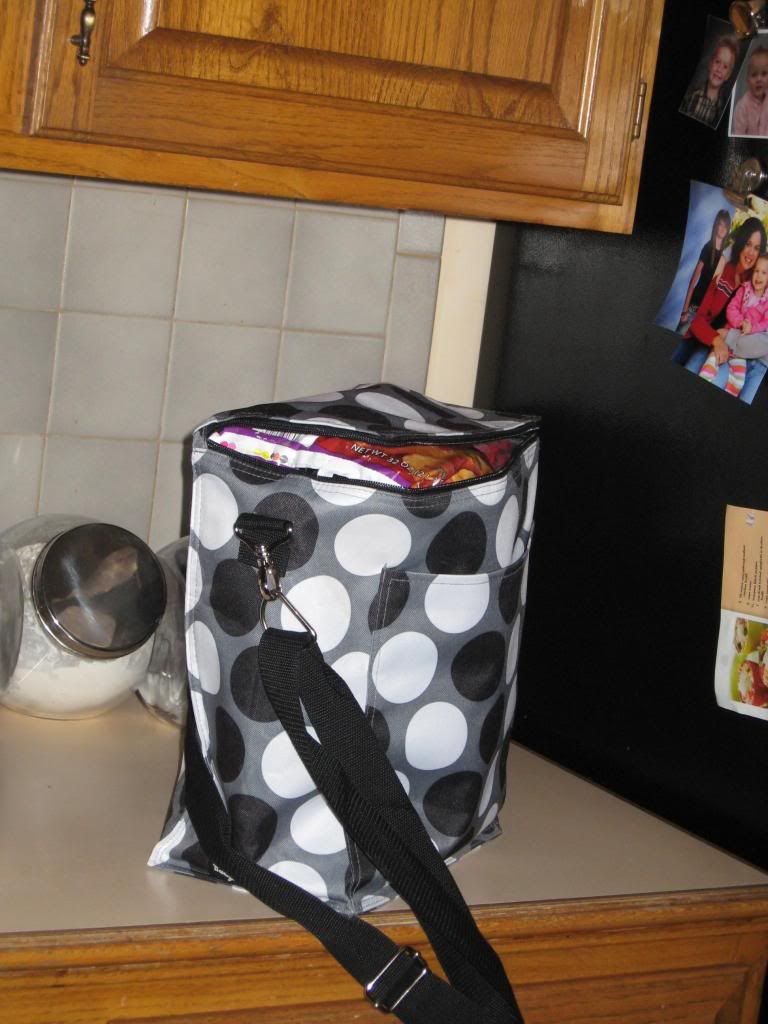 Picnic Thermal - $35
I actually used this as a giveaway for one of my parties. It is great for those nights when you're out at practice to store cold drinks, juice boxes, cans of pop, etc. This would be great for the summer.
Keep It Caddy - $22
These are great for all sorts of things. I bought these for Tom to help him organize the garage after his dad passed and he inherited many tools. I have two others that I use for toys and books in the car for Jaycee when we travel and I plan to use the other one in the baby's room to hold diapers, wipes, ointments and other baby accessories. This would also make a great gift for a baby or wedding shower. I might be doing that for a couple of showers that are coming up in the next couple of months.

Pro Duffle - $80 (but if you spend $35 in April you can get it for $25)
I bought this for Tom as an early Father's Day gift. He plays a lot of softball in the spring and summer and I thought he could use a bag for all of his equipment. This spring he goes to his games straight from work, so it is large enough to hold an extra set of clothes, along with his shoes, mitt, balls, and bat. There is also a pocket for him to put his keys and wallet. He can keep it all in one place. Also I decided to get his last name on it. Now he is a walking advertisement for my business.
I am glad for the creativity that 31 has allowed me to have and I hope to keep helping people stay organized. If you are at all interested in any of the products I've shown here, please visit my website:
www.mythirtyone.com/mira
or you can send me a message and we can set up a time to see how 31 can help meet your needs. I will be placing a new button for my 31 website along the side of my blog. I would be humbled to help you host a party and explore what 31 is all about.
Mira